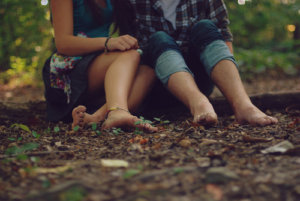 We walked until the canopy of trees opened, revealing the cloud-covered sky. I sank to the ground and pulled Bella down next to me.
"What's wrong?" She rubbed her palm over my back.
"Nothing. I just wanted to show you something." My voice sounded as discouraged as I felt.
"So show me."
"I can't." Noticing her questioning look, I added, "It needs to be sunny."
"Oh." Bella scooted closer and brushed the loose dirt from her bare legs. "Tell me?"
I wrapped my arm around her gently. "Promise you won't run away screaming."
She nodded cautiously.
"Bella . . . I'm not human."
---
Simple
"Mike, Tyler, and Eric asked you to prom, and you're complaining why?" Jessica asked Bella with a confused expression on her face.
"I told you, Jess. I don't want to get all dressed up."
"But it's prom!"
"Well, I don't dance. It's just not for me." Bella turned and walked away, effectively ending the conversation.
Edward, having overheard them, approached his crush once she was alone. "Bella?"
"What, Edward?" she snapped. If one more boy asked her to prom . . .
"Do you want to hang out on prom night? We can watch movies and eat popcorn."
Bella smiled. "I'd love to."
---
Ripple
Bella has been gone all day. I get out of the Volvo and pace. If that mutt harms her . . .
My phone rings, but to my disappointment, it's not Bella.
"What, Alice?"
"Don't do it!"
"I have to. Jacob could hurt her. She might need me."
"Edward, you can not cross the treaty line," she says sternly. "It will start a war! We'll have to move and never come back. Besides, if anyone gets hurt, Bella will never forgive you. Is that what you want?"
"No." Just then, I hear Bella's ancient trunk rumble to life. "I have to go, Alice."
---
Quixotic
"So can I see you again?" Edward asked as we stepped outside. The rain poured down relentlessly, putting a damper on this already strange blind date. I looked down and sighed. "What's wrong?"
"Nothing. It's stupid." He waited. "My new shoes are going to get ruined," I explained and nodded toward the unavoidable mud puddle. "I'll never be able to wear them again."
Without hesitating, Edward removed his jacket and placed it on the ground like some sixteenth century gentleman. I couldn't stifle my laughter.
"I would love to see you again," I told him. "Maybe we can go shopping."
---
Wander
I had asked the Volturi to end my life years ago. No matter how much I begged, they wouldn't kill me. I haven't been back home since. I miss my family terribly, but I can't go back. I don't deserve them.
The only woman I've ever loved died because I refused to give her forever. It's my fault she's gone.
This is my hell.
Someone has been following me. I can't hear their thoughts. It brings back memories I'm not ready for. I break into a run.
"Edward, wait!"
The voice is different—wrong—but I'd recognize it anywhere.
"Bella?"
---
Read more:
The Twilight 25: Round 4 Page | FanFiction