Here in the Garden of Sin has been nominated for The First Annual Walk of Fame Awards under the Dark Angel category! I am so, so, so excited! Thank you to whoever nominated it. <3 Now for the fun part. Here's what it's up against: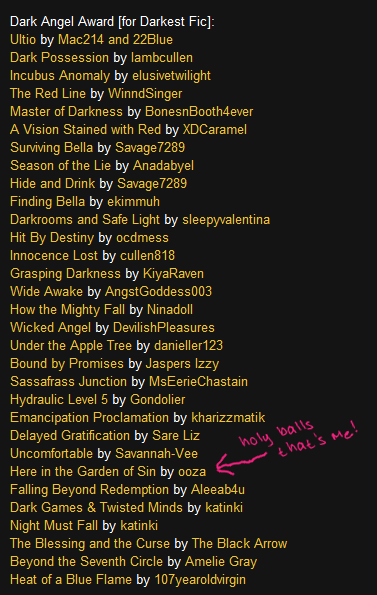 Amateurs! lollll
In all seriousness, I am very honored to have my story listed among the other nominees. Some of my all-time favorites are in there, and many are on my TBR list. They say "it's not a competition; it's a celebration" and I have to agree. I am definitely celebrating this new first in my fic life.
VOTING BEGINS JANUARY 15! Until then, check out all voting categories here.
p.s. Look out Birdward! You're not gonna know what hit you. (Get it? Hit? Cuz you hit . . . oh, nevermind.)