Bliss
Her scent assaulted me as she slept. She was dreaming about me; I could tell by the words that slipped past her lips. It wasn't difficult to decipher her mumbles, but I used them as an excuse to move closer to the bed. As I brushed the hair from her face, she said four words that took my breath away.
"Edward, I love you."
My resulting smile was so big it hurt my cheeks. Quietly, I returned the sentiment. "I love you, too, Bella."
And I hoped with my still heart that someday I would tell her to her face.
---
Under
Edward moped around the house all day, outfitted in sweatpants and a big, cozy hoodie. He rarely got the flu, and when he did, he wanted to be taken care of. He wished Bella had stayed home from work to be with him.
Between trips to the bathroom, he spent the day on the couch feeling miserable, watching television, and hoping food would miraculously appear in front of him. He fell asleep for a few hours and awoke to the sound of the garage door opening.
"Hey, baby," Bella said as she entered the house. "I brought you some soup."
---
Stagger
I woke up as the morning light filtered through my bedroom window. The brightness caused my head to pound. I drank too much last night. Memories slowly returned in a foggy haze—long hair, brown eyes, a wet, warm mouth.
I staggered across the room, still a bit drunk. I needed to piss and brush the god-awful taste from my mouth. The room was spinning. My stomach clenched, trying to purge the poison from my system, and I groaned loudly.
"Edward." The unexpected voice from the bed caused me to jump. "Will you drive me home?"
"I can't. Please stay."
---
"Who brought the shot glass?" Emmett's voice echoes through the basement.
"Dude, keep it down. My mom will hear us."
"My mom will hear us," I mock. "Quit being such a pussy, Jasper. We don't need a fucking shot glass. Gimme the booze," I say as I snatch the bottle from his hand.
"Fuck you, Edward." He playfully punches my shoulder. It hurts like a bitch, but I laugh it off. Bringing the bottle to my lips, I take a giant swig. The alcohol burns and I grimace as I shake my head. Jasper grabs the bottle and smirks. "Pussy."
---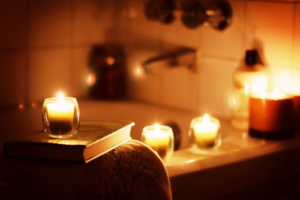 "Bella, you in here?" Edward opened the bathroom door slowly, smiling when he spotted me in the tub. I watched him shed his clothes before slipping into the water. I began to sit up; his hand stopped me. "Stay there."
He moved between my legs and leaned his back against me. His body was a cool contrast to the warm water. The ends of his hair, damp from the bubbles, tickled as he laid his head against my shoulder.
"How was your day?"
He turned his head and placed a kiss on my cheek. "Better now that I'm with you."
---
Read more:
The Twilight 25: Round 4 Page | FanFiction