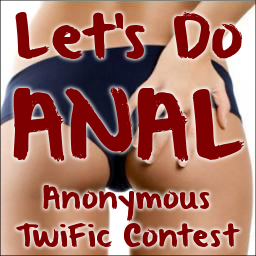 SAY WHUUUUUT??!?
You read that correctly! Livie79 and I are hosting the Let's Do Anal Anonymous TwiFic Contest! We want your best M/F cherry poppin' anal one-shots. Entries will be accepted through March 31.
There are seven wonderful ladies on the judges' panel: Livie79, AwesomeSauce76, Aleeab4u, capitalAB, luvrofink, RoseArcadia, and Stickybuns.
For rules, awards, and updates, visit the official site: letsdoanal.blogspot.com. You can also find us on Twitter (@LetsDoAnalCont) and FFn (LDA Anon TwiFic Contest).