As you may or may not have known, I submitted a one-shot for the Taste of the Forbidden Contest. It was my first time entering a contest, and although I didn't take home all the prizes, I did get an honorable mention!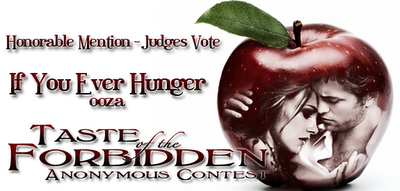 If You Ever Hunger is all kinds of dirty and wrong. It was fun to write, but once the veil of anonymity was lifted I started to get a bit of anxiety. I hope people keep in mind that it deals with a taboo subject; the contest was named Taste of the Forbidden, after all. Here's the official summary and warning:
Bella has loved Edward since she was eight years old. During her summer break, she decides to win his heart once and for all. But prior commitments prove hard to break, and the line between family and lovers is not so easily blurred. A tale of seduction, self-indulgence, and forbidden love. One-shot written for the Taste of the Forbidden Contest.

Warning: Includes familial relations of a sexual nature. Rated MA/NC-17 for sexual content.
Now, before you go running for the hills, please know that Bella and Edward aren't actually related. Geez, I have some standards, you know! If you are interested in reading the one-shot, it is available on Garden of Sin and FanFiction. If not, peace out. I'll catch you on the flip side.