With the release of the Breaking Dawn, Part 1 DVD/Blu-Ray being right around the corner, I started to panic trying to figure out which edition to purchase, so I decided to do some quick research on the different versions that are available. @m_474 asked me to share my research, so here it is:
Before we go any further, I'd like to mention that the special features on all the 2-disc sets (whether DVD or Blu-Ray) appear to be the same. It includes the 6-part making of documentary, Edward and Bella's personal wedding video, Jacob's destiny, both Edward and Jacob fast forwards, and audio commentary with Bill Condon.
First up are the basic, buy them anywhere special edition DVD and Blu-Ray. They look like this: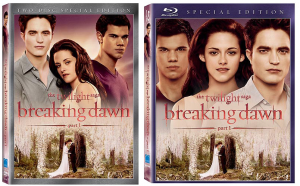 Now, there are two different exclusive versions that I've found. The first is from Target. It has the black cover similar to the exclusive Target versions of the past (and also very similar to the discontinued Border's versions if you started your collection with those and feel anal about everything matching, like me). According to Target's website, this version (available on both DVD and Blu-Ray) comes with an authentic prop flower from the film's wedding scene, encased in a collectible keepsake with a letter of authenticity.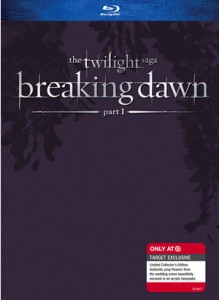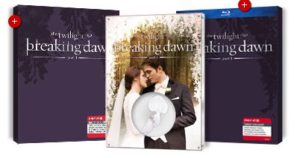 The second is from Walmart. Their special Bella's Wedding Dress edition has special packaging made to look like, well, Bella's wedding dress. It also comes with a 30″ x 40″ fabric poster and music videos from Bruno Mars, Christina Perri, and more. This version is also available in both DVD and Blu-Ray.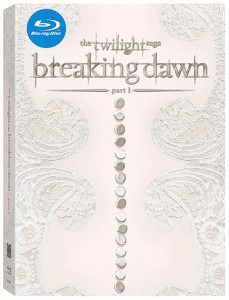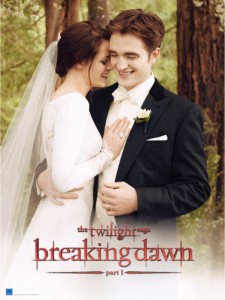 With all the video content the same (which, I believe, they started doing with Eclipse), it makes the decision a bit easier! As for myself, I haven't decided yet. I'd like to get the Target special edition DVD so that my set somewhat matches, but at the same time, the wedding dress packing is pretty fucking awesome.
Which one are you going to buy? Have you seen one that isn't listed here? Leave a comment and let me know!