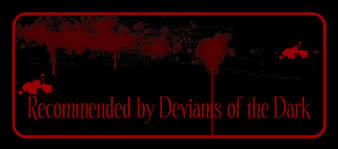 Here in the Garden of Sin was recommended by Deviants of the Dark today! Here are just some of the wonderful things they had to say!
Donna_rai says:
It is twisted from the very beginning, talk about keeping you on the edge of your seat! It keeps you thinking "What the hell is gonna happen next!"

Not only is this story well written but the author has created a brilliant twist, it has me begging for the next chapter to be here now!!

There is only a handful of fics out there that take me by surprise, and I cant predict whats going to happen next…..this is one of them! I honestly didn't want to stop reading. I am very excited to see what O_oza has in store for this story, she definitely has a way of leaving you in suspense, and i love it.
and Lambcullen says:
This kicks off the a very intriguing start. You think you know what is happening, and yet all of a sudden you are thrown into the utter confusion that Edward is feeling. Edward is utterly perplexed by Bella, and that gives him a caustic edge… maybe even cold.

However, this isn't your usual Darkward story… there is an odd edge to Bella. Something that I cannot wait to reveal itself.

Her descriptions of Edward's darkness are chillingly delicious….and yet there is a vulnerabilty that drips through. Edward is just as confused and lost as Bella is, though I don't think many people see this other side to him.

I personally feel this is one of the most layered Darkwards I have ever read. We get the thrist for her blood, and yet we ll feel for Edward. It's amazing how the author conveys that.
And there's more! Bop on over to their post and check it out. :D
Thanks for the rec ladies! ♥