Hello, everyone! Let me introduce you to my Fandom for Mental Health charity piece: The Dreaming Dead.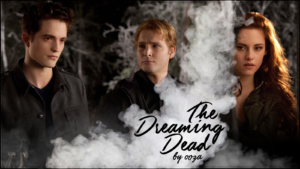 Edward has been a member of the Volturi guard since parting ways with the Cullens in 1935. When an assignment reunites him with the family he abandoned, he questions the decisions that brought him to Volterra. Set during Eclipse. Edward/Bella, AU.
The beginning details of Edward's life are the same. Carlisle changed him in 1918, and he had a rebellious stage from 1927 to 1931. Where this story deviates is shortly after Emmett was changed in 1935. Struggling with the lifestyle and living among couples, Edward once again left Carlisle. Curiosity brought him to Volterra where he's remained a member of the Volturi guard ever since. Ergo, he wasn't present when the treaty was formed in 1936 or when Alice and Jasper joined the family in 1950. But he's still the same broody, self-deprecating Edward we all know and love.
If you are interested in a part 2, leave me a review or a comment here or hit me up on Twitter @o_oza.
Enjoy!